Luis Suarez scores for Barcelona in Saturday night's clásico. ESPN photo.
Cindy and I went to the closest neighborhood bar on Saturday night to do what most of the rest of Spain was doing, which was watching the two best soccer teams in Spain duke it out.
Barcelona
whomped
Real Madrid
, 4-0, in what was supposed to be a close match, but that was almost beside the point.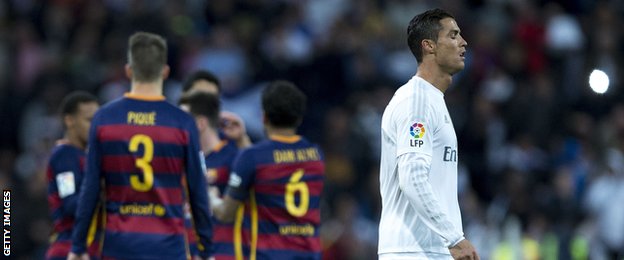 Ronaldo and Real Madrid had a rough night. Getty Images via BBC
Barcelona and Real Madrid were playing a regular season game--they play twice, home and home--so it was not a playoff or final or anything special.
But their matches--which have so much history and drama that they are referred to as
clásicos
--regularly draw hundreds of millions of TV viewers.
First, the teams are rich and successful.
Forbes
ranks Barcelona and Real Madrid as
the two most valuable sports franchises
in the world. The BBC last year
recounted the history
of the 200-plus
clásicos
, and gave a sense of why they deserve the designation as classics. Similar to the Patriots-Giants or Red Sox-Yankees rivalries, but bigger.
Pre-game estimates for Saturday's match were
600 million viewers in 170 countries
(Spain's population is 45 million), or more than six times the
TV audience for the last Super Bowl
, according to
CNN
. A 2014 match between the two teams drew 400 million viewers.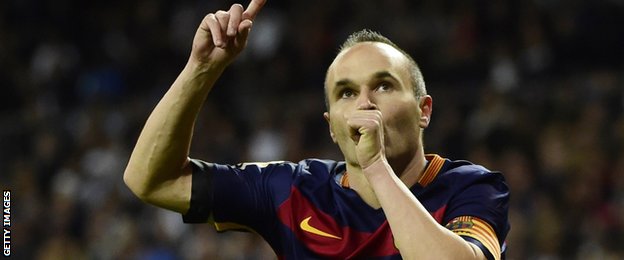 Iniesta had a brilliant goal for Barcelona. Getty Images via BBC
The worldwide interest? The teams are led by
Lionel Messi
of
Argentina
for Barcelona and
Cristiano Ronaldo
of
Portugal
for Real Madrid, who between them have won the
FIFA Ballon d'Or
for the best player in Europe the last five years. Each of them
makes more than $20 million
a year.
Both teams are loaded with other world-class stars--
James
(pronounced HAH-mes) of
Colombia
,
Neymar
of Brazil (he notched one goal Saturday for Barça),
Luis Suarez
of Uruguay (he had two goals) to name a few.
Barcelona and Real Madrid are perennial champions of the 20-team league, and
ESPN
's soccer correspondent says Barcelona is
among the best
futbol teams in the world right now, if not the best. Same goes for the Spanish league itself.
An engaged crowd
Basic cable wasn't carrying the game. It was only available on Canal Plus, so if we wanted to participate in the national ritual, we had to go to the bar, which was packed. And given that this is northeastern Spain, the locals favored Barcelona, nearer culturally, historically, politically, and geographically than Madrid, where the match was being played.
These fans were beer drinkers, mainly,
Cruzcampo
on tap. A small draft,
una caña
, for about $1.90. At the bar, little torpedo sandwiches of ham and cheese or Spanish tortilla (a kind of potato omelette), about $1.25.
A middle-aged woman sitting next to us with a gravelly smoker's voice was a Madrid fan but kept her stream of obscenities and frustration at a level audible only to her friend and us. When Barcelona got away with a handball (obvious, the ref missed it) and a takedown of Ronaldo in the penalty area, both of which should have given Madrid a penalty kick, you could barely hear her groan of discontent. Otherwise, the rest of the crowd might have run her out of the place.
Boring?
I can watch an entire soccer (futbol) game, two 45-minute halves, because the action is continuous and always interesting. There are no time-outs. This match ended
two hours
after the 6:15pm start. But I cannot watch an entire American football game, which often stretches to
three-and-a-half hours
with all the clock-stopping by the coaches and lawyering by the referees.
The largely Barcelona crowd in the bar stayed all the way to the end, despite the fact that the match was over shortly after half-time. I am told that they would not have hung around if their team had been getting whomped.
In 2011, when Cindy and I spent
two months traveling around Spain
, there were
four clásicos in 18 days
as the two teams played each other in the League, the King's Cup, and the European Championship series. I managed to watch all of them. Exciting stuff.
Related:
How to spend nine weeks in Europe without losing your shirt
Columbus Day story: How he brought me to Spain
20,000-year-old cave art and the north coast of Spain
In Pamplona, they party like it's 1591
Barcelona's art and architecture make it a favorite
Cordoba's main attraction: mix of Jewish, Moorish, Christian cultures
Basque language has mysterious origins